Discover Your New Favorite Vintage Shop in Brooklyn
Funky vintage shop specializing in one-of-a-kind, statement thrift finds. Explore more than 2,000 square feet of curated vintage and thrift clothing, furniture, and jewelry; the ultimate treasure hunt.
Hundreds of new arrivals each week including affordable leather jackets, vintage Levis denim, silk slip dresses, sterling silver rings, vintage t-shirts, furniture and home décor. Famous for our $5 rack filled with secondhand clothing bargains; local customers' favorite!
Unearth Vintage on Smith Street is conveniently located next to the Bergen St. Subway F & G lines. Visit the best Brooklyn vintage stores in Cobble Hill!
Open Every Day 11am - 7pm
159 Smith Street Brooklyn NY 11201
Get Directions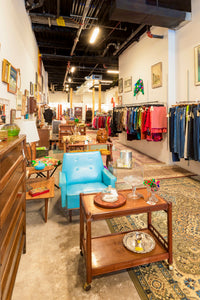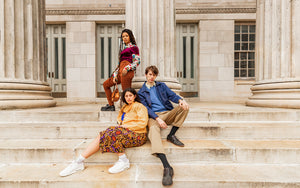 Our Story
True vintage & thrift store in Brooklyn New York. We are first generation immigrants from Eastern Europe. Thrifting and unearthing affordable vintage clothing is our way of life.
Read More
"Hands down my favorite vintage store in Brooklyn. I frequent the store as much as I can and have gotten around 15 items. This place basically upgraded my entire wardrobe! They have a great variety of pieces, especially in leather, silk, and cashmere. If you're in the neighborhood, you have to check it out!" - Yining

"An eclectic assortment of vintage treasures and the prices are always so reasonable which is why I always recommend Unearth Vintage to friends." – Jess

"I stumbled across this new-to-the-neighborhood vintage spot recently and absolutely fell in love! I grabbed a number of super-cute, excellently priced vintage goodies, from boots to bags to sweaters. I'll be back!" - Elle

"There is something special about finding pieces that tell a story from a different time… It's the thrill of unique finds, statement pieces, & rediscovering fashion history through different silhouettes. Shopping vintage and upcycled fashion with Unearth Vintage feels fun & personal + you never know what you'll find!" – Catherine
"Hands down my favorite vintage store in Brooklyn. I frequent the store as much as I can and have gotten around 15 items. This place basically upgraded my entire wardrobe! They have a great variety of pieces, especially in leather, silk, and cashmere. If you're in the neighborhood, you have to check it out!" - Yining
"An eclectic assortment of vintage treasures and the prices are always so reasonable which is why I always recommend Unearth Vintage to friends." – Jess
"I stumbled across this new-to-the-neighborhood vintage spot recently and absolutely fell in love! I grabbed a number of super-cute, excellently priced vintage goodies, from boots to bags to sweaters. I'll be back!" - Elle
"There is something special about finding pieces that tell a story from a different time… It's the thrill of unique finds, statement pieces, & rediscovering fashion history through different silhouettes. Shopping vintage and upcycled fashion with Unearth Vintage feels fun & personal + you never know what you'll find!" – Catherine